Your Trusted Roswell Roofer Since 2008 | Hill Top Rooofing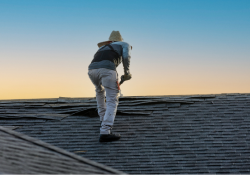 Welcome to Hill Top Roofing, your trusted roofing contractor in Roswell, GA, and the surrounding areas. With over two decades of experience, we have established ourselves as a reliable provider of top-quality residential and commercial roofing services. At Hill Top Roofing, we are dedicated to delivering superior customer service, using premium materials, and employing skilled professionals to ensure the highest standard of workmanship. When you choose us as your Roswell roofer, you can expect exceptional results and a seamless experience.
Comprehensive Roofing Services in Roswell

At Hill Top Roofing, we offer a comprehensive range of roofing services tailored to meet the specific needs of residential and commercial properties in Roswell, Georgia. Whether you require roof inspections, repairs, replacements, or new installations, our experienced professionals are equipped to handle any roofing project. We understand the importance of a reliable and aesthetically pleasing roof, and we strive to deliver exceptional results that exceed your expectations.
Our team of experts specializes in conducting thorough roof inspections and providing proactive maintenance services. By identifying any existing or potential issues, we can address them promptly, helping you avoid costly repairs down the line. Whether you need minor roof repairs or complete roof replacements, our skilled technicians are dedicated to delivering reliable solutions that protect your property.
For those in need of new roof installations, Hill Top Roofing has the expertise and resources to ensure a successful project. We work closely with you to understand your specific requirements and provide recommendations based on your preferences and budget. Our team utilizes premium materials and industry-leading techniques to deliver a durable and visually appealing roof that enhances the value and aesthetics of your property.
Expert Storm Damage Restoration in Roswell

When severe weather causes damage to your roof, Hill Top Roofing is here to provide expert storm damage restoration services in Roswell, GA. Our knowledgeable and experienced roofers are equipped to handle the aftermath of storms, ensuring your property is restored to its pre-damaged condition. From minor repairs to comprehensive restoration, we are committed to delivering prompt and reliable services that give you peace of mind.
Why Choose Hill Top Roofing in Roswell, GA?

Choosing Hill Top Roofing as your trusted Roswell roofing contractor comes with numerous benefits. We prioritize customer satisfaction and strive to exceed your expectations with every project. Our team combines extensive industry experience with a commitment to using high-quality materials and employing skilled professionals. We work closely with you to understand your vision and deliver results that align with your preferences and budget. When you choose Hill Top Roofing, you can have confidence in our commitment to excellence.
Contact Hill Top Roofing at (770) 432-5169 or visit our contact page to schedule a consultation with our expert team. Experience the difference of working with the trusted Roswell roofer dedicated to your satisfaction. Trust Hill Top Roofing for all your residential and commercial roofing needs in Roswell, GA, and beyond.